Parade Float Building workshop co-ordinator & collaborator with Transformation Haus & Feld to represent them in the Carnival for the Future.

Deviser, Co-Director, Performer in "Stories from the Future" an interactive street theatre performance at the Carnival. See below for more details.
Initial Writer, Lead Deviser & Performer.
Robots repeating the words of climate criminals like big gas companies, scientists silenced, climate activist tries to speak the truth and challenges the government and media. Livestream video
Content from Youtube can't be displayed due to your current cookie settings. To show this content, please click "Consent & Show" to confirm that necessary data will be transferred to Youtube to enable this service. Further information can be found in our Privacy Policy. Changed your mind? You can revoke your consent at any time via your cookie settings.
Consent & Show
Content from Youtube can't be displayed due to your current cookie settings. To show this content, please click "Consent & Show" to confirm that necessary data will be transferred to Youtube to enable this service. Further information can be found in our Privacy Policy. Changed your mind? You can revoke your consent at any time via your cookie settings.
Consent & Show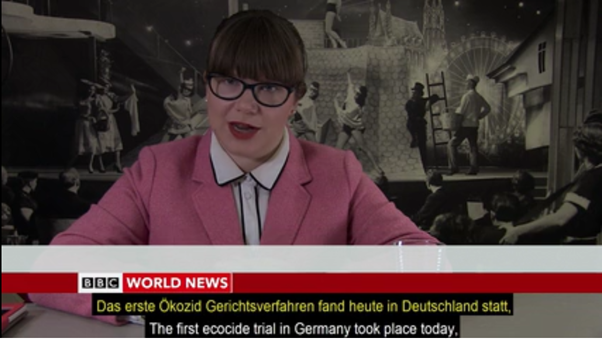 Content from Vimeo can't be displayed due to your current cookie settings. To show this content, please click "Consent & Show" to confirm that necessary data will be transferred to Vimeo to enable this service. Further information can be found in our Privacy Policy. Changed your mind? You can revoke your consent at any time via your cookie settings.
Consent & Show
Launch of the Wintershall Must Fall campaign to raise awareness of Germany's biggest yet unknown gas company destroying land in the Global South to power Germany as well as emissions from their fracking speeding the global warming process.

Overall Campaign - Collaborator
Mock News Ecocicde Trial Video - Co-writer, Co-director & Performer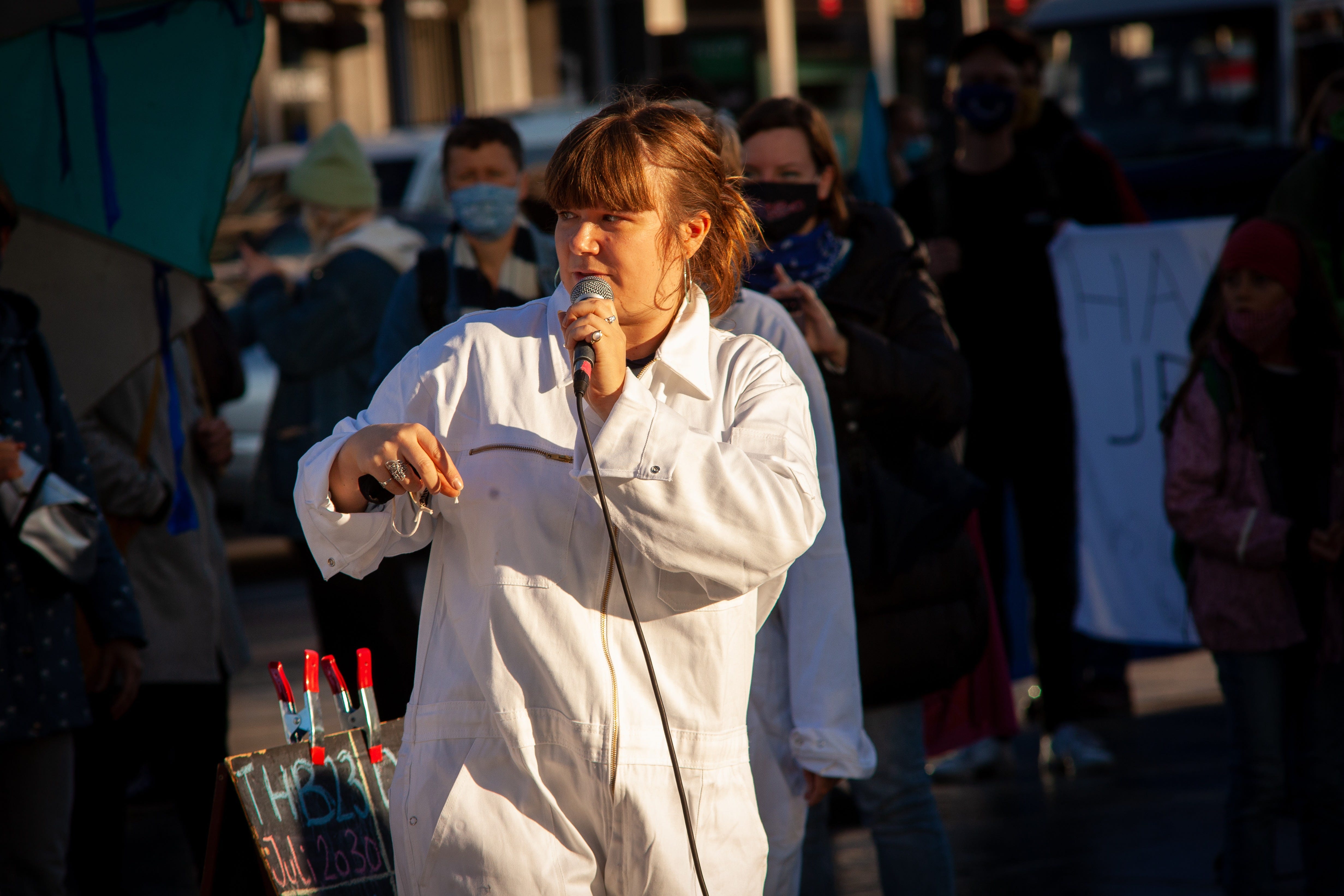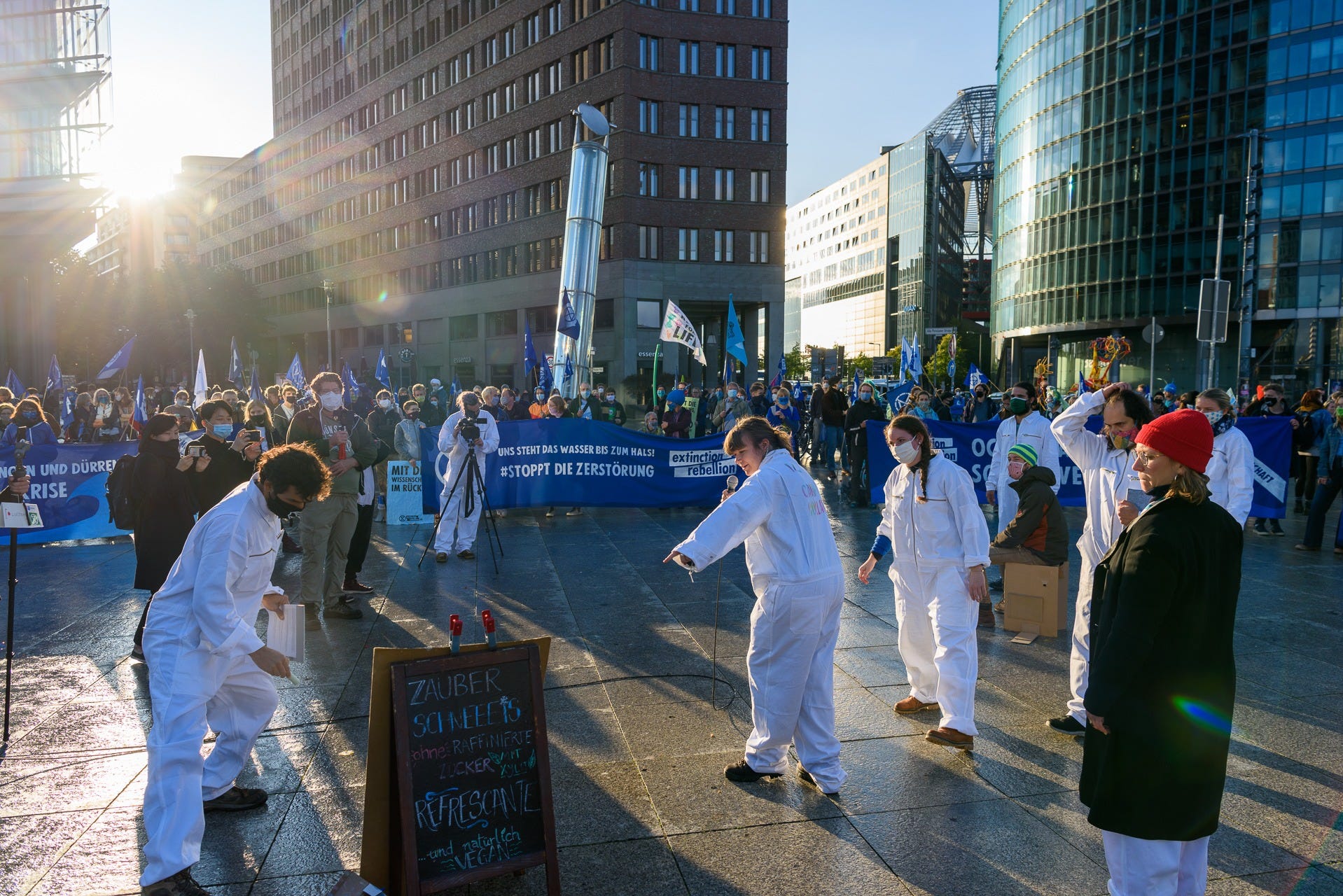 Content from Vimeo can't be displayed due to your current cookie settings. To show this content, please click "Consent & Show" to confirm that necessary data will be transferred to Vimeo to enable this service. Further information can be found in our Privacy Policy. Changed your mind? You can revoke your consent at any time via your cookie settings.
Consent & Show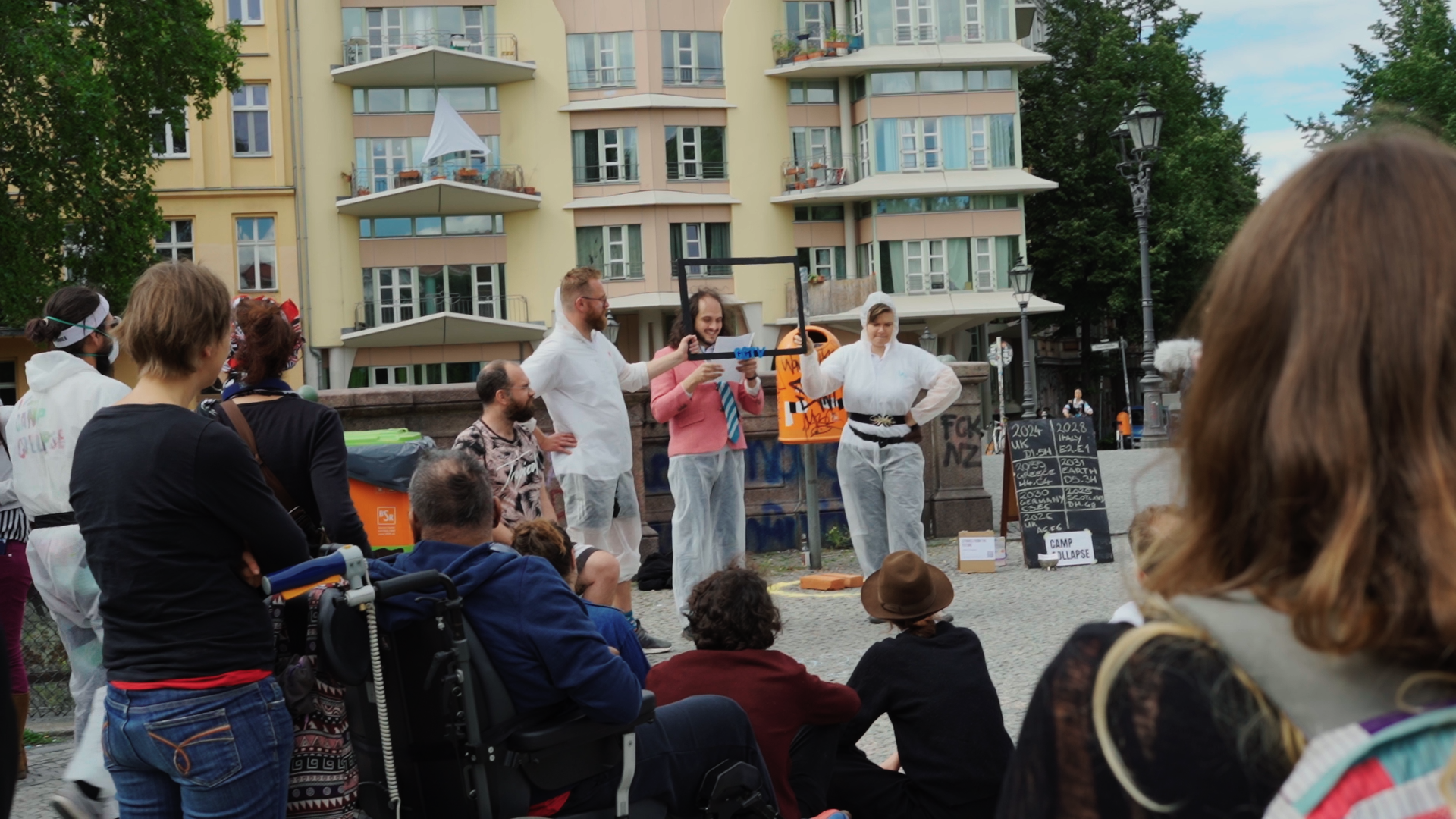 Co-writer, Lead Deviser, Performer with Rough Triangle & Camp Collapse

A team of time travelers from the future try to figure out some key questions: "Are we heading towards a good future?" "Is our reality the one that will learn from the Covid19 crisis and start taking steps towards facing the climate crisis?"

Armed with news stories from different possible futures, these intrepid but underfunded scientists were interviewing the Berlin crowds to decide if they want to stay or try another universe where things might go better...

Stories From the Future - This is an Intervention trailer
Content from Vimeo can't be displayed due to your current cookie settings. To show this content, please click "Consent & Show" to confirm that necessary data will be transferred to Vimeo to enable this service. Further information can be found in our Privacy Policy. Changed your mind? You can revoke your consent at any time via your cookie settings.
Consent & Show
Content from Vimeo can't be displayed due to your current cookie settings. To show this content, please click "Consent & Show" to confirm that necessary data will be transferred to Vimeo to enable this service. Further information can be found in our Privacy Policy. Changed your mind? You can revoke your consent at any time via your cookie settings.
Consent & Show

Is life still a cabaret in the doom and gloom of a world on the edge of disaster?

In a dystopian future that considers scientific predictions & current world politics, an aging cabaret star is stuck alone in quarantine in an abandoned theatre. The end of the world imminent, she decides to imagine her final audience for her final bow at The Last Cabaret On Earth!

"Bold ideas and thoughtful dramaturgy, Rough Triangle never disappoint."

A comedic & moving performance with live music as political comment.

Writer & Performer
(And Singer in the rough teaser video)


Devised with Camp Collapse , the workshop installation presented 3 different future universes and we asked people to add to the stories either through Word, visual or audio. Based on the material from the Multiverse Research Project.

Workshop Co-Developer & Performative Faciliator